10 Lessons from the 2019 Obama Summit…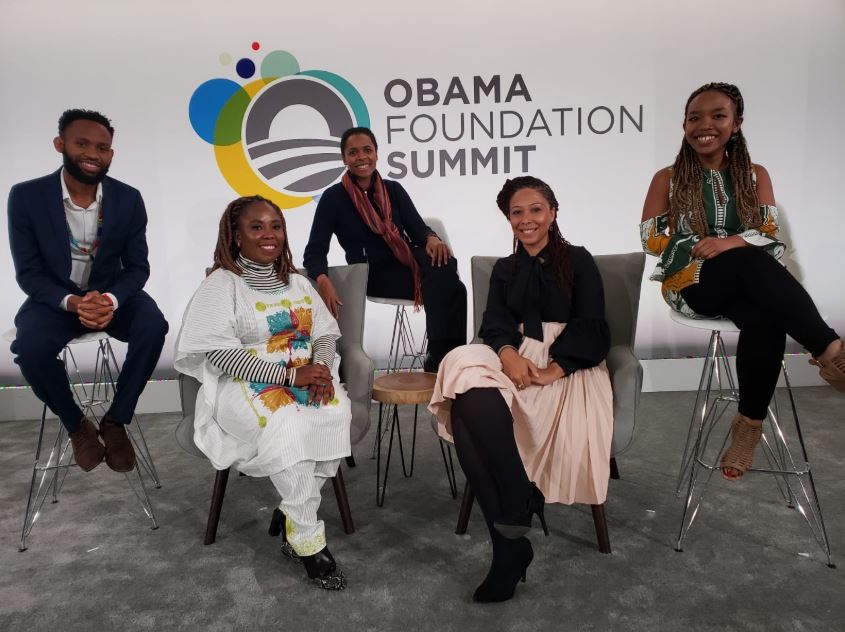 Some opportunities come once in a lifetime and being able to attend the 2019 Obama Summit in Chicago was definitely one of them.
I was super excited when I was selected as one of the 5 Obama Africa Leaders that would represent our cohort at the summit.
The summit was hosted at the Illinois Institute of Technology — Kaplan Institute, in Chicago — an awesome venue that was fully branded in the usual Obama Foundation manner.
The Theme
The theme of the Summit was "Places Reveal Our Purpose"
The theme resonated deeply with me because I strongly believe that we must all operate in our purpose and to do that we must be in our place of purpose. My place of purpose is in Nigeria and on the African continent.
I was selected to participate in the Places of Purpose Exhibition at the summit that showcased amazing leaders and change makers from around the globe in a place that inspires them and gives them a deep sense of purpose.
I chose the hustle and bustle of Computer Village in Otigba — The Largest ICT Accessories Market in Africa, located in a community called Otigba, Ikeja in Lagos, Nigeria — as a place that gives me purpose.
As the name hints, it is a place for computers and related accessories, phones and tablets, and almost all other I.T devices are available. Apart from the sales of information and technology accessory, the market also deals in the repair of mobile phones and computers.
I chose Computer Village as my place of purpose because it encompasses the Nigerian hustle, endless talent and underlines that technology will be a driving force of Nigeria's and Africa's development. It is a place that gives me enormous amounts of hope and keeps me pushing.
The Swag
A swag bag, a really cool Tshirt, lots of cool stickers and a really cool water bottle, as well as some amazing personalised business cards, were all part of the little bits and bobs I got to take back home, but the honest truth is that I went home with so much more — new knowledge, new friends, a new mindset, lots of motivation and excitement and a heart filled with gratitude.
The Summit
Besides the AMAZING photo-op with President Obama and Mrs Obama (or Barack and Michelle like I like to call them when I fondly pretend they are my friends), which was mind-blowing and inspiring, we spent 4 days in Chicago learning, serving the community, talking about our projects and our work, networking and listening to absolutely amazing panel discussions that were star-studded with a mix of global celebrities, change-makers as well as Fellows from all the different Obama Foundation initiatives.
So many people have asked me to summarise the key take aways …..So here it goes:
10 lessons from the 2019 Obama Summit:
1. Take care of yourself — leaders need body mind and soul…
Get enough sleep
Exercise
Eat healthy
Drink lots of water
Have a hobby
Spend time with your family and friends
Read books
Spend time alone
Dance alot and bring joy into your work
2. Think about how you spend your time carefully:
Only work on things that make a big impact. If there is something that interests you and there is someone else that can drive it just as well as you could, step back let that person drive it and support it. Work on things that require you to be in the driving seat.
3. Invest in relationships
— almost everyone who works at the Obama Foundation, supports it, sits on the board or is otherwise affiliated to the foundation has a personal relationship with the Obamas.
Michelle's book — Becoming — which I read earlier this year alluded to this, but being at the summit painted an even clearer picture. President and Mrs Obama have surrounded themselves with people who served in the previous administration, worked on the campaigns or were involved in the many initiatives they had during their presidency, their family members (I dined with Maya Soetoro-Ng who is Baracks sister and heads the Asia Pacific leadership programs), old friends and young people who have bought into their big big vision!
As we say in Nigeria — we are loyal to your Government.
At the summit, I often wondered how they were able to create this army of people who have decided to follow and support them on their journey.
I quickly realised that both President and Mrs Obama were not only excellent at selecting the best people, building them up, creating environments that their people want to be in, but also in building trust and creating a deep sense of purpose and an understanding and alignment with their values.
4. Stay humble and be true to your values:
The reason why I fondly pretend that Barack and Michelle are my friends is because they are so down to earth and so humble. They give me a strong sense of familiarity and remind me of my parents — hardworking, focused, dedicated to life long excellence, givers with deep roots in community service and always always always humble and down to earth.
Humility I have learned over the years does not come naturally to many, but when you grow up seeing it enacted every day it is a trait you automatically imbibe. Now the second part of this lesson is being true to your values and Barack said something extremely profound that I had heard a friend say a few weeks before — list out your values and then examine what you spend your time and money on and compare that to your values — the latter gives you a list of your actual values while the prior gives a list of your ideal values. Our work is to align both lists — we must constantly fine-tune our values our actions and our impact.
5. Be authentic
— We often want to fit in, often want to conform, belong to and be accepted. In this process, we lose parts of our authentic self…with every time we compromise our authentic self gets diluted without us even knowing. Leadership often requires you to take the road less travelled, stand for an unpopular opinion or showcase the most authentic version of yourself in order to connect with people. Every day we must strive to be authentic.
6. Focus on impact, not on taking up a particular position
— worry about what you want to do rather than what you want to be. This way you eventually become a leader in the area you want to make an impact in. If it doesn't work out you would still have touched a lot of lives and your heart will be full. I'm paraphrasing here — but this to me was the most important and impactful statement of the session with President Obama. It resonated with me deeply because my entire life I have focused on impact and on leaving a legacy and this approach albeit unconventional has opened so so so many doors. It has taken me around the globe, has put me on stages where World Leaders listen, has allowed me to build an exceptional network of amazing people, has put me on boards & committees and given me the privilege and opportunity to be an inspiration and role model to many. Many times in my quiet moments I wonder what my life would be like if I hadn't chosen the road less travelled, if I hadn't focused on the impact of my work. I bet I wouldn't be sitting 2 metres away from Barack….
7. Be part of the ones we have been waiting for
— Ask yourself am I part of the solution or part of the problem and when you do, remember, sometimes we may mean well and intend to fix things, but end up amplifying the problem with our actions. We had an amazing workshop with Karen Grattan who took us on a two day deep dive into systems thinking and understanding how societal issues are the same all over the world.
8. Innovate
— To truly innovate we must live in the future and anticipate what our consumers/customers will need in 5, 10, 15 years time. This is especially true in this day and age where Digital Transformation is on the top of the agenda of businesses — I wrote a pretty interesting piece on that recently, which you can read here.
9. Be intentional
— there are various different leadership programs and fellowships that the Obama Foundation champions. They all have one thing in common — they are grooming and investing in the next generation of leaders.
Leaders who are selfless, who want to serve and who are driven making a change in the world. President Obama talked about his vision briefly and mentioned that it was to create a million Barack and Michelle's around the globe, but not only that, he also wants them to be connected and know each other and work together — and the summit gave participants of the various programs like myself the opportunity to engage, learn from, listen to, share with, laugh with, dance with and serve the community with other leaders from around the world, each of them doing amazing things and being the change.
10. Disrupt the status quo and empower others:
By disrupting the status quo we can impact generations — My friends Michelle and Barack (as you can see I've fully settled into my comfort zone) are currently building the Obama Presidential centre smack bang in the middle of the Southside of Chicago — this project is not only going to create jobs in the immediate community but will also attract millions of people into a part of Chicago that they would usually never visit, this is itself will empower members of the community and help build up the Southside, which is a predominantly black and poor neighbourhood in Chicago and represents the place that gives both Michelle and Barack purpose. We must plant seeds that impact people and change the course of history. We must ensure that our purpose enables us to leave a legacy.
I am truly humbled and grateful to be part of this global network of change-makers — may our lives leave mighty legacies, may our impact be felt by generations to come.
To learn more about the Obama Foundation or the summit visit www.obama.org