5 Creative Ways Your Business Can Engage Followers Using Instagram's Story Stickers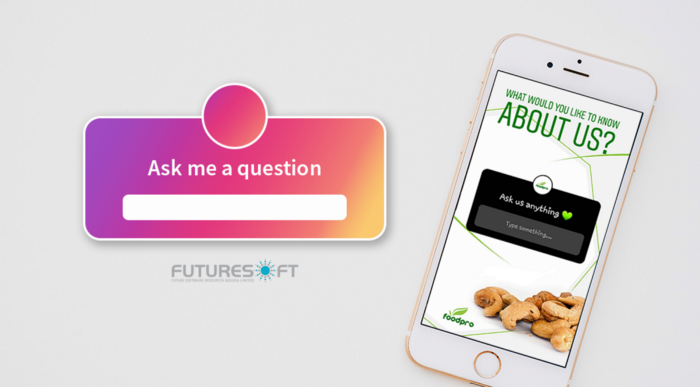 Despite the platform's recent aggressive algorithm updates that seem to have everyone and especially influencers and businesses worried about the downturn in engagement numbers.
Instagram remains a fast-growing mobile-first platform and records over 1bn monthly active users (Data as at June 2019) with 500mil daily active Instagram Story users (you may want to read that daily part again) and still holds its place as one of the most powerful channels for businesses and influencers to reach and engage a large and active audience.
*Snack Break 🍪 — Because I'm about to say something genius 😎*
If your engagement rates on your Instagram page have recently dropped, then you are probably going to have the following questions…
How can I engage my current following?
How do I get more followers out of the 1billion active users to follow and engage with my page?
What's so interesting about the Instagram story that keeps over 500milllion people hooked daily?
How can I join the conversation?
To answer these questions, it is important to also know that:
80% of Instagram users follow at least one business page. You know some of them — those ones that keep tagging you on giveaway posts by their favourite brands (Yeah, I know you too 😅).
2) By rule of thumb, people will naturally stick around and engage with a brand that makes them feel a warm sense of belonging and asks for their opinion. Yup, you guessed it people want to be involved and want to feel important.
3) The ephemeral (short life span) nature of an Instagram story instantly activates FOMO (fear of missing out), making users more inclined to see your post at a given time and more frequently without much hesitation. Stories work like magic unless of course, you've earned the title of the notorious gang leader of the boring post association 🤷‍♂️, but there's redemption for you, just keep reading.
Instagram Engagement Stickers
Since the birth of Instagram stories, the possibilities for brands to creatively engage with their audience have never been this abundant especially with the recent introduction of interactive stickers. My favourite ones so far are the Question, Poll and Quiz stickers and I'll be sharing post ideas you should try out with these. If you already know how to add stickers to your story you may skip this 18 seconds video tutorial….if you don't then this is for you — click play!
Instagram Story Posts Ideas
1. Q & A with your audience:
This has got to be one of the most popular ideas, but my best bet is that this will still work tomorrow. Influencers and celebrities started using the Question feature to conduct Q&As with their fans it didn't take long for smart brands to start adopting this new way to connect with their followers too.
Foodpro, a cashew snack company uses this to ask their fans what new cashew snack flavours they would love to invent or what they would love to do before summer ends. The feedback is always fun to read as followers are always excited to ask questions or share their opinion and how they feel about issues.
2 Ask for product feedback
You can always get creative with how you get feedback on your products or services. While regular posts asking for thoughts on your products might come up as too self-promotional, story sticker allows you to get this same feedback in a fun and exciting approach. Depending on what you want to ask, you can get followers to choose between two products using a poll or just ask their take with a question sticker. This is a great way to test what products your followers are more excited to see and which ones you need to post less often.
A pizza shop, for example, can use engagement stickers to find out if their new pepperoni option was what people expected or place two flavours side by side and get people to vote which flavour they would buy if they could only have one.
3 Announce a New Product release
Imagine you owned a restaurant and needed a fun way to announce a new special dish on your weekend brunch menu. There are hundreds of ways to pop the news, but what if you took a nice BTS (behind the scene) pictures of your chef making this new dish and capturing some of the very important ingredients, share this on your story and ask your followers to guess what you are going to add to the menu this Summer.
While you watch out for followers who can guess the correct answer, you'd also have fun reading all the failed attempts to guess this new dish as will your followers who would be just as excited to leave an answer. Remember to share every single reply you get as there is really no right or wrong answer — we all just want to have fun. Engaging customers on this level makes it harder for them to forget when you finally release this menu.
4 Get personal with your followers
While a lot of brands have strict communication guidelines, it doesn't hurt to get a little personal with your followers. This can be easily adopted by bloggers and influencers in a bid to connect with their fans. A brand that makes baby products, for example, can share their favourite 'Awww' moments with fellow moms, but instead of just sharing a regular story, they can use the question sticker to ask other moms and dads to share which of your products are their kid's favourite toys or share a clip of themselves and their child up at 2am and use the question sticker to ask moms what about their babies keeps them awake the most.
5 Conduct a pop quiz or trivia
This may sound cliche but I bet some of your best performing posts so far were those that asked your followers to answer a trivia or riddle. Here are two reasons why… it's fun, people like to feel smart even if they Googled to find the answer (who really cares).
Here's a good example — It's the start of the week, the most dreaded Monday and you post a Story of your team or just a member starting the day with a cup of coffee. Write some text saying, "If I had the day off, I would ________" and use the question sticker to allow followers to fill in the gap with what they'd rather be doing on Monday and again, share every single response — even if you have to dedicate 30mins or an hour for this, it would make your followers feel special. This is a sign that you value their time and feedback. When you need them again, they'll show up.
All of these post ideas can be implemented using any of the engagement stickers but it's best to choose the one that allows you to get the best response from your followers. While polls and quiz would allow your followers to choose from a list of options, question stickers are great for getting endless unrestricted feedback for your followers.
Stories and stickers truly present creators and businesses with tons of ways to engage with their audience and I'd love to know what you've also been trying out, please leave a comment or five and don't forget, sharing is caring ❤️❤️❤️.