Africa Wins BIG in Digital Innovation With Social Impact at the 2019 World Summit Awards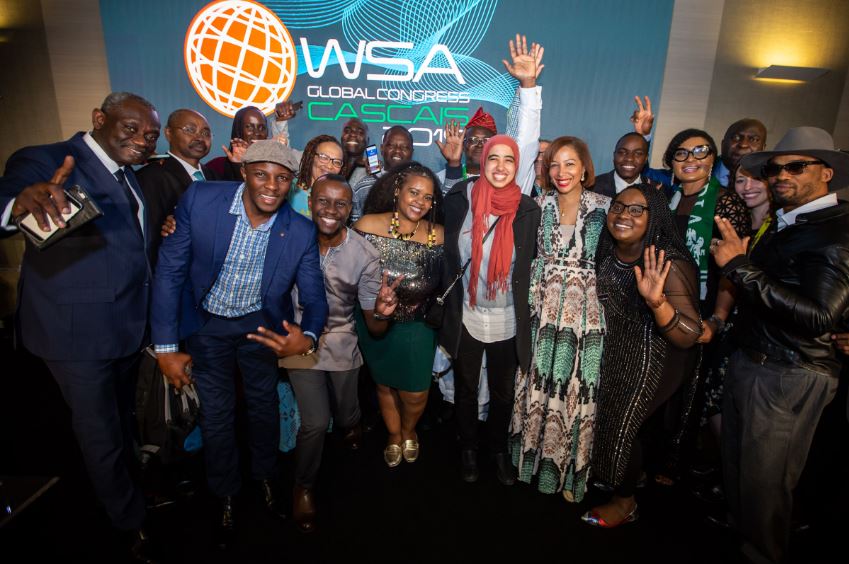 I realized earlier this week that it's been 10 years since I got involved with the World Summit Awards, a global contest for solutions focused on digital innovation with a social impact!
Every year a network of digital experts and innovators as well as winners from all over the globe come together at the WSA Global Congress to share ideas, discuss Innovation and the impact it has on creating a better world, learn, teach, network and ultimately be inspired.
This year's Congress took place in the beautiful city of Cascais in Portugal — where the sea ends and the world begins.
3 days of mind-blowing pitches, talks and workshops and on my way home all I could think about is how excited I am that there are 7 African projects that made it into the final round of Winners and 3 African projects that emerged category winners a.k.a Global Champions!
Repping Africa at the 2019 WSA
This is a big win for Africa — we've put ourselves on the map and told some of our stories — something we don't do enough.
Here's an overview of all the amazing African projects from the WSA 2019 in Cascais:
Afrocomix — GHANA — Global Champion in the category Culture & Tourism
A content hub for creative work made by Africans on the continent, providing a one-stop-shop for people everywhere who love African art. Afrocomix focuses on monetization while addressing fragmentation in African creative industries. Afrocomix gives content creators a platform to display their work with a simple upload, including comics, graphic novels, animation and wallpapers, and to earn 70% of the net revenue generated. A mobile money solution supports users without access to online payment systems.
Carrot — NIGERIA — Winner in the category Business & Commerce
A one-stop estate planning solution for individuals to securely create, update and schedule the execution of wills and or other testamentary instruments such as – deed of gifts, living wills, trusts, guardianship, etc. anytime, anywhere on their digital devices. Carrot uses OTP authorization and biometric authentication to validate a subscriber or grant access to any instrument created on the platform, eliminating disputes between next of kin and other beneficiaries, while simplifying family estate planning.
MAXOkada — NIGERIA — Winner in the category Young Innovators
A mobile and web applications provide safe, affordable and accessible moto-taxis to underserved communities in Africa, using inclusive asset-finance and safety hardware. The end-to-end platform connects drivers to commuters and businesses in real time to fulfil goods delivery and get people to their destinations. By licensing and creating credit ratings for drivers, and providing safe and affordable moto-taxi service for commuters and enterprises using their mobile devices, MAXOkada is transforming transportation in Africa.
IremboGov — RWANDA — Winner in the category Government & Citizen Engagement
An eGovernment platform providing access to government services in Rwanda. It hosts over eighty-six services from eighteen government agencies with over 150,000 transactions a month. IremboGov also harnesses existing infrastructure (telcos, human resources, payment gateways etc.), increasing access points and field agents, as well as the overall user rate. Accessing services is simpler, faster and cheaper for Rwandan citizens, while government provides services more effectively and transparently.
M-Shule — KENYA — Winner in the category Learning & Education
The first adaptive, mobile learning platform in Africa connecting primary school students to personalized education. Meaning "mobile school" in Swahili, M-Shule's platform uses artificial intelligence to deliver personalized learning support in math and English via SMS and chatbots, building students' concept mastery, exam performance, and confidence. M-Shule then shares data and insights with parents, schools, and organizations to power better instruction and collaboration, delivering high-quality learning for each child.
Kuza One — KENYA — Global Champion in the category Environment & Green Energy
A platform and program offering agri-business mentorship and quality information, credit & marketing to smallholder farmers. A member of the rural community is chosen to become an "agri-entrepreneur" serving 200 farmers with packages of practices and agri-extension services via the portable digital kit. The multi-faceted digital platform provides access to crop advisories, inputs, credit & market info on demand.
Sokowatch — KENYA — Global Champion in the category Business & Commerce
is an e-commerce startup connecting manufacturers directly with small retail shops in urban Africa through SMS and Android app ordering systems. More than 10 million informal shops sell over $180 billion of goods every year, yet they routinely run out of products, lacking financial services and proper management tools. Sokowatch benefits shop owners by eliminating costs and downtime. Its beautifully integrated system and nice functionality currently supplies over 3500 stores across East Africa.
And then there's one more honorary African Winner — simply because their solution is focused on solving very specific African problems.
Leaf Global Fintech — USA — Global Champion in the category Young Innovators
Provides financial services to the stateless and excluded on a mobile device, a safe way for refugees to protect and transport savings across borders while escaping conflict. Leaf Global Fintech uses blockchain technology to instantly convert mobile money into stable investments backed by fiat currency. Leaf's platform is accessible anywhere from a mobile device — no smartphone required. The customer's identity is linked across borders using biometrics. Leaf uses distributed ledger technology to facilitate secure, trustless transaction storage.
To check out all the winning projects click here.
One thing I realized, as I sat through the various pitches, is that there's a big difference in the sort of problems winners from first world countries are working on and winners from emerging economies are working on.
No African project made it into the final round in the following categories:
Inclusion & Empowerment
Health & Wellbeing
Smart Settlements & Urbanization
Having spoken at various international conferences last year one thing is crystallizing, it's that you cannot pour out of an empty cup.
Emerging economies have problems of basic infrastructure, education, poverty and a growing digital divide to conquer, while first world countries have used technology to automate and improve their systems allowing them to have time to think, time dedicated to improving learning for the health sector or solving problems of including people with disabilities into every day life, mapping hiking trails or creating virtual tours for museums and thinking about how their cities can become smarter and smarter.
And while all the projects that were presented were beyond amazing, this huge disparity was so glaring and deeply saddened me. The digital divide cuts much deeper than just the lack of digital literacy, it shows that first world innovators can focus on improving the quality of life, saving the environment, thinking about sustainability and ensuring that everyone has access to knowledge, while innovators from emerging economies scramble to find solutions that can replace what our governments should be doing — providing access to basic quality education, providing infrastructure or public transportation or providing support to farmers, refugees and shop owners in the informal economy.
Africa must wake up, we must jump on the 4th Industrial Revolution (4IR) train and get our brightest brains to work on solutions on how to use technology to accelerate the growth of our economies and transform our countries, so that our children can solve first world problems instead of struggling to solve the same problems their grandparents have been looking to solve since independence.
Let's celebrate Africa and let's continue creating platforms and visibility for technology solutions in action. Let's keep banging on about technology being a transformation tool until we fully embrace and own the 4IR and turn it into an African story — a story of accelerated transformation that catapults us to the top.
So I raise my glass and toast to the African Winners and Global Champions of the World Summit Award. May this be a stepping stone to bigger and better things!!!